The garden is open for either The National Garden Scheme or Children's Hospice South West on the dates listed below.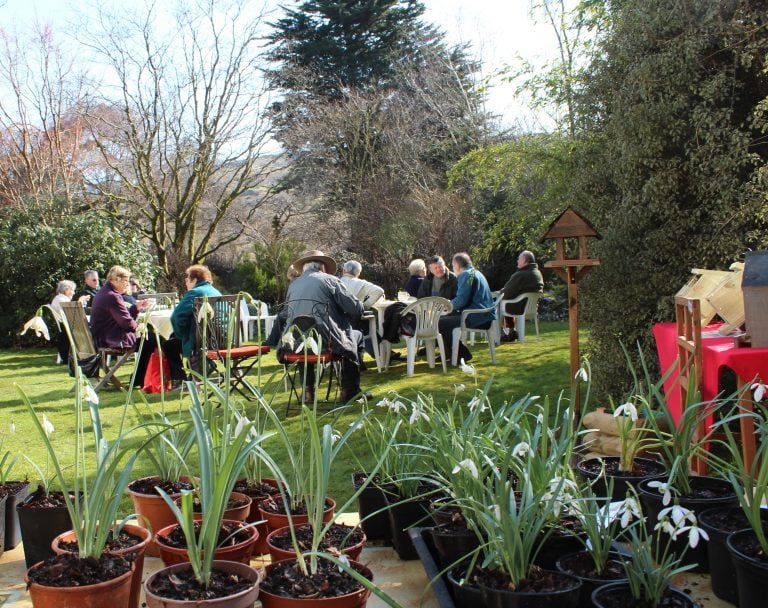 On open days, teas, coffee, cakes, cream teas and soft drinks are available, and there are a selection of plants cultivated in the garden to buy.
We are also open by appointment for individuals and groups, and we welcome visits from garden clubs – these can be morning, afternoon or evening, with refreshments.
The garden is dog-friendly, has quiz sheets and a playhouse for young children and we are on hand to discuss plants and answer questions.
Whilst the garden is wheelchair accessible, please be aware that routes are on grass and that there are some tricky slopes in places – we are on a moorland hillside above a steep valley. Access to some of the garden can become difficult when it is wet.
Opening Dates for 2024
Sunday 11th February 'Snowdrop Sunday' in aid of the Children's Hospice South West 11.00-4.00pm
Sunday 7th April in aid of the National Garden Scheme 2.00-5.00pm
Sunday 21st April in aid of the National Garden Scheme 2.00-5.00pm
Sunday 5th May  in aid of the National Garden Scheme 2.00-5.00pm
Monday 6th May  in aid of the National Garden Scheme 2.00-5.00pm
Sunday 26th May in aid of the National Garden Scheme 2.00-5.00pm
Monday 27th May in aid of the National Garden Scheme 2.00-5.00pm